To the creatives at idMI, MODERN isn't just a look—it's a lifestyle. We look to the timeless designs of the past and the most unique and high-quality furnishings of the present, and the lasting philosophies on style and function to create spaces that propel our clients into the FUTURE.
With three decades of expertise in style, decor, and interior design, Todd Reeves and Jorge Saiz—along with their team—are the leading experts on modern and contemporary interior design along the Gulf Coast of Florida and beyond. Having worked in design for some of New York's most prominent fashion houses, Todd developed a keen eye for details and a passion for creatively pairing beautiful colors, patterns, and styles for a one-of-a-kind look that stands out as well as stands the test of time.
After leaving the city in the mid-1990s for Todd's hometown of Topeka, Kansas, and opened their first furniture and design showroom in 1993. Like a perfectly tailored gown or suit, a well-made piece of furniture is all about lines, materials, and production quality. Todd and Jorge developed relationships with well-traveled and stylish clients from around the country while at the helm of their Topeka store. They later fell in love with the beach lifestyle and moved to the Emerald Coast of Northwest Florida in 2006 and opened isidro dunbar Modern Interiors—a combination of Jorge and Todd's middle names, respectively. After over a decade in Miramar Beach, the idMI team continues to be the go-to showroom for modern and contemporary design, furnishings, accessories, and art for clients from throughout the Southeast and beyond.
idMI partners with quality, bespoke furniture makers from around the world. From indoor home furnishings to office and outdoor, these pieces are not ones you'll find shopping elsewhere. Some of our cornerstone brands include American Leather, Elite Modern, BDI, Bontempi Casa, Brown Jordan, VONDOM, and many more. Visit our Brands page to see the collection.
In addition to retail, Todd and the team offer full-service interior design. With options to fit your needs and budget, we are here to support clients whether they are redecorating a room in their Gulf-front condo, furnishing a new office space, or starting from the ground-up on the interiors for a new-build home. Visit our Design Studio page to learn more, or Contact Us to discuss your next project!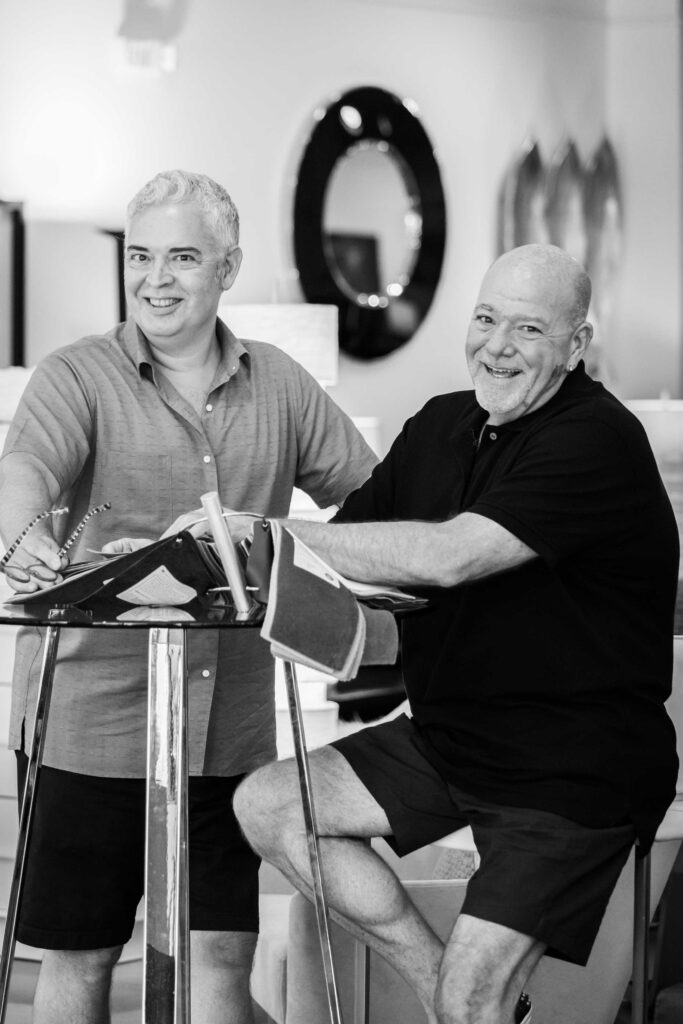 We met Todd and Jorge when they first opened the store, since I had to meet another Cuban in Destin! Ever since, our house has been furnished little by little with the gorgeous modern furniture unique to Modern Interiors. Of course we have become great friends with both Todd and Jorge. They immediately knew exactly what we liked and everything they have shown us for our home has been perfect. There is no other place around this area with such great modern furnishings nor with such talented and experienced people.
We have now decorated both a Seaside condo and a Seagrove Beach home with the help of idMI. They got our modern style and helped us figure out each room. We also love the durability of the American Leather sofas we have purchased – they have held up to the wear and tear inflicted by renters in a beautiful manner.
Not only are they a knowledgeable and professional business to deal with but they are also honest to a fault and stay within the limits of your bank account.
When we purchased our condo and decided to remodel it, we knew that we loved modern design style but had no idea where to begin to create the look we wanted. As luck would have it, we happened to notice the sign for Modern Interiors while driving down the Emerald Coast Parkway one afternoon. We stopped in and were immediately bowled over by the kindness and expertise of owners Todd and Jorge, and by their stunningly gorgeous and unique store. Todd and Jorge came to our condo to measure the rooms and created the perfect designs for our space. Their help and guidance were invaluable every step of the way, from selecting colors and furniture to finding the perfect lighting, wall art, and area rugs for our condo. We absolutely LOVE how everything turned out, and we never could have done it without Todd and Jorge of Modern Interiors!!! They are quite simply THE BEST and we love them!!
My great service experience continued and at each step of the journey my expectations were exceeded. I actually stop in from time to time just to say hi to my good friends at Modern Interiors. I have referred several of my friends to their gallery and they too have had the same amazing experience. Needless to say, I would highly recommend Modern Interiors to anyone seeking high quality furniture, art and accessories.